Highlights
Initially developed as a breakfast but turned out to be suitable even as a 'cake' with your tea/coffee
Breakfast/Lunch/Snack/Cake/Dessert
No added sugar
No sophisticated kitchen accessories needed
Ingredients
Oat flakes – 2 cups
Almond milk – 1 cup
Raw egg – 1
Nuts – 0.5 cup (I used Brazilian nuts 'Dutch: Paranoten')
Apple – 1
Pear – 1
Banana – 1
Frozen forest fruits  – 2 cups (I used one box of the frozen fruits from AH)
Baking powder – 1 teaspoon
Cinnamon – 2 teaspoons
Fat to coat the oven dish (I haven't used it and the bottom was a bit stacked to the dish)
Optional: dry fruits (I haven't used them)
Tips
Oat flakes could be replaced by buckwheat flakes
Instead apple & pear – it's possible to use fruit puree
I used homemade almond milk – recipe
Needed appliances
A bowl to mix ingredients
A spoon
A fork and a small bowl to beat the egg
An oven dish
Oven preheated to 190ºC
Preparation steps
Place 2 cups of oat flakes, cinnamon and baking powder in a bowl
Beat an egg and mix it with almond milk in another bowl
Mix the content of both bowls together (oat, cinnamon, baking powder, egg and almond milk) and leave it for 15 minutes so the flakes can absorb the moist
In a meantime cut nuts, apple, pear and banana in small pieces.
Mix everything together and put it in the (optionally: coated with fat) oven dish.
Distribute the frozen fruits on top.
Place the dish in the oven and bake it 25 minutes in 190ºC.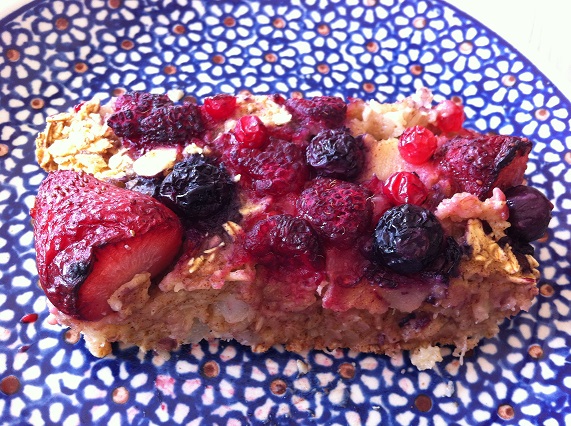 Enjoy your meal,