Do you know those Advent calendars that hide for example chocolates inside?  You get to open one chocolate every day as a countdown to Christmas.
Together with a group of 'glutenfree' bloggers from The Netherlands and Belgium, as from tomorrow we start a glutenfree blogging Advent Calendar for you. Just, as there are 32 of us, our Calendar lasts from the 1st December 2014 till the 1st January 2015! How great is that :-) Every day, one of us will blog about December and glutenfree living. We already know whose blog will be posted when, but we want to keep it as a surprise for you. Each day, you can read on our blogs, Facebook or Twitter who the blogger of the day is.
Have a wonderful December full of peace, love, hope and joy. We will do our best to bring you a little bit of inspiration every day for the entire month.
Our logo is designed by Bakers and Fakers (link below)
The GF blogging Advent Calendar is initiated by Ik ben glutenvrij (link below)
We use the #decemberglutenvrij tag in social media for the entire month
Click on the gifts under the tree to find out the post of the day. Every day, you can find here a new gift! Don't forget to check it out :-)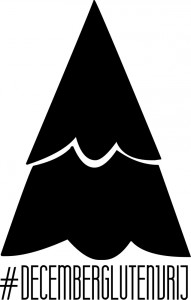 The blogs that participate in the #decemberglutenvrij relay-race
Bakers and Fakers
Creatief Glutenvrij
Da's andere koek
​De gezonde kok
De glutenvrije man
Dion glutenvrij​
DIY for you and me
Foodless
Glutenfree Amsterdam
Glutenfree Guide
Glutenfree Lady
Glutenvrij hoort erbij
Glutenvrij reizen
​Glutenvrije blog
Glutenvrije mama
Glutenvrijers
Glutenvrijheid
​Gluuts
​Home of comfort
Ik ben glutenvrij
​Kids met allergie
​Laurien is
The Dutch Celiac
​Mainly Marlot
​Meer dan Glutenvrij
​Met Zonder gluten
Miss Glutenvrij
Rijstwafel
Stories of a Coeliac
Young and Wild and Glutenfree
Your daily intake
Zusjes Glutenvrij
I am looking forward to read all the stories! Stay tuned and watch our posts,