If we went for a party to my aunt or we celebrated Christmas at my grandparents' house – the vegetable salad with mayonnaise was always there.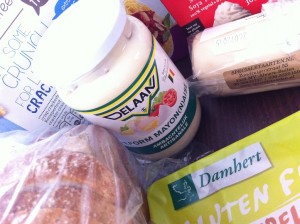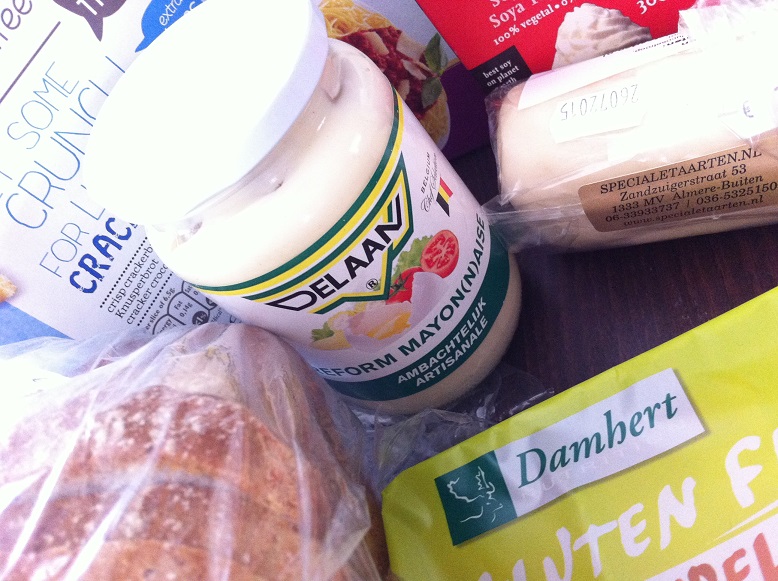 No matter what occasion to celebrate was it. It is our traditional food :D
I made this vegetable salad last Easter. It is delicious and filling. You can eat it at breakfast, for lunch and even with a dinner. It is gluten and dairy free. Remember that not all mayonnaise is gluten free, check the label (I used Delaan Belgian mayonnaise which is free from preservatives and color agents). Yumm!
Ingredients
Carrots – 3
Potatoes – 4
Eggs – 5
Green Peas – one  tin/jar (about 250 ml)
Corn – one tin/jar (about 250 ml)
Leek – 1 big or 2 small
Salt
Pepper
Mayonnaise – 1 big spoon
Optional: Fermented/Pickled cucumbers – 4
Optional: ham
Preparation steps
Boil carrots and potatoes together (don't let them become too soft; they need to keep their shape when you cut them in small blocks);
Boil eggs and let them cool;
Cut leek in small rings; wash and blanch it with boiled water; let it stay in hot water till it is cold-ish;
Open jars/tins with corn and peas and drain well;
Optional: cut cucumber and ham in small blocks;
Add spices and a big spoon of mayonnaise and mix everything;
Serve cooled.
Try it out, it is really nice.
Cheers from Arnhem!
Kati xxx