Pizza is a traditional Italian flat bread baked in an oven typically topped with a tomato sauce, cheese and other foods: vegetables, meats, seafood. Nowadays, pizza can come as a deep-dish pizza, stuffed pizza, pizza pockets, pizza turnovers, rolled pizza, pizza-on-a-stick. A survey from 2004 showed that it's not Italian but Norwegians that eat the most pizza (5.4 kg/person a year), followed by Germans. Pizza Margerita was called after Princess Margherita of Savoy, the wife of Italian King Umberto I (1878–1900). Apparently her favorite pizza toppings were tomato, basil and mozzarella.
Highlights
Gluten free, wheat free, dairy free and soy free!
Easy to make
10-15 min preparation & 15-20 min baking
Suitable as lunch or dinner
Ingredients
Flour mix – 375 g of Pizza & pastry multimix from Orgran
Dry yeast –  7 g
Sugar – 1 tea spoon
Warm water – 250 ml (I use warm tap water)
Fat in a liquid state – 20 ml
Gluten free flour – a couple of spoons (to sprinkle the bowl/board used to knead the dough)
Red tomato sauce or tomato puree (I used a pre-made red sauce AH Excellent because I was out of tomato puree at home ;)
Anything that you want to put on your pizza dough (I used: champignons, yellow and red peppers, tomatoes, arugula (in Dutch: rucola), cheese)
Optional: ketchup or garlic sauce
Ingredients of Pizza & pastry multimix from Orgran: Maize starch, Potato starch, Maize flour, Raising agents; Glucono delta lactone, Sodium bicarbonate, Pea flour, Salt, Stabilisers: Xanthan gum, Carboxymethycellulose, Methycellulose.
* The Orgran gluten free flour mix for pizza contains more food additives than conventional (wheat based) pizza flour. As much as I found it very delicious, it is healthier to use it in moderation (just like any other foods).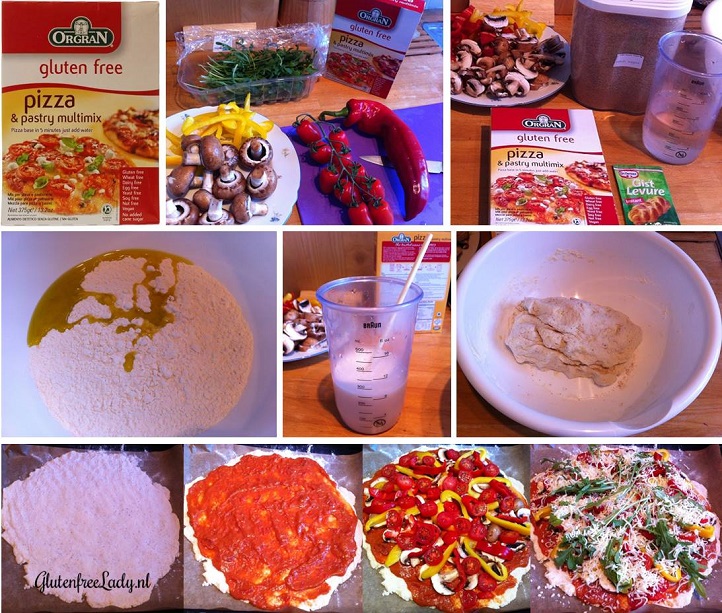 Needed appliances
A bowl
A measuring cup
A spoon/spatula or a sushi stick
A cutting board
A knife
A baking plate
Baking paper
A pre-heated to 200 oven
Optional: a kitchen balance
Tips
If you do not have any red sauce at home or tomato puree – you can use ketchup.
You can easily make your own red sauce by heating some tomatoes on a pan together with Italian herbs and garlic.
According to the recipe printed on the Pizza flour box – the oil should be added to water with gist and then all together added to the flour BUT I have messed up the order (my partner was helping;) and we added oil to the flour directly. As you can see – it made no difference!
If you cannot tolerate even small amounts of cheese (dairy, lactose intolerance) – you can skip cheese or use a lactose free version
If you are in a hurry and don't feel like cutting your vegetables – through some slices of g-f ham on your dough and you are ready to go!
If you like to have pizza dough edges filled with cheese – make them before applying the sauce (between the steps 10th  and 11th )
Preparation steps
Switch on the oven, set it on 200 ºC
Cover the baking plate with baking paper
Wash and cut the vegetables
Measure 250 ml of warm tap water and dissolve one tea spoon of sugar in it
Add the dry gist to the sweet water and allow the gist to activate for 5-10 min before you add it to the flour
In a meantime, place the flour in a bowl
Now it is time to add the liquid fat to the activated gist solution
Combine the liquid ingredients with flour and knead for 2-3 min
When the dough becomes too sticky – sprinkle some gluten free flour on it (I used a leftover of a brown bread mix)
Now spread the dough on the baking paper using your hand (sprinkle the dough with some gluten free flour)
Apply the red sauce on top of the dough
Decorate your pizza with anything you like
If you want to use yellow cheese – I suggest to place it on top
Now, place the raw pizza in the oven for 15-20 minutes
Enjoy your meal,