Dumplings are the most traditional Christmas dish in our family. At Christmas we are always filling them with cabbage and mushrooms but on other occasions we fill them with fruits or meat or even a filling made of white cheese and boiled potatoes.
I am not an expert in making gluten free dumplings. This year I made GF dough for dumplings for the first time. I was lucky, it worked out very well!
Ingredients for dough (for about 20-25 dumplings)
GF flour mix – 200 g (I used the one from Celiko to make pasta. It contains 65% rice flour and ~35% potato starch)
GF flour mix for bread *– about 1 cup (I used Doves Farm flour mix for brown bread)
Any GF flour for covering the working space on which the dough was rolled (about half cup)
2 eggs
4-5 spoons of water (20 ml)
1 spoon of oil
Pinch of salt
*The flour mix for bread from Doves Farm contains Xanthan Gum. I believe that this hydrocolloid made the dough strong enough to form dumplings of it. If you plan to use other flours in your recipe, makes sure your flour mix contains a gum as well or adds some to it.
Ingredients for filling
Sauerkraut (mine contained carrot)
Mushrooms
Onion
Salt and pepper
Preparation steps – Filling
Boil water in a pan.
Drain sauerkraut and place it in the boiling water for about 10-15 min. Afterwards, drain in very well.
Cut mushrooms in tiny pieces and fry on ghee.
Cut onion in small pieces and fry on oil.
Cool the boiled cabbage and cut it so it doesn't contain long strings of cabbage.
Mix cabbage, fried mushrooms and fried onion together. Use salt and pepper to adjust the flavor to your own taste.
Preparation steps – Dough
Place 200 g of GF flour mix to the bowl. Add 2 eggs, 4 spoons of water and 1 spoon of oil. Mix together.
Slowly keep adding the flour mix for bread to the dough and keep kneading with your hands. Don't add the entire cup of flour at once. Knead for about 5 min. In the end you should obtain an elastic ball of dough. If necessary: add more flour or water.
Preparation steps – Dumplings
Boil salty water in a pan.
On a surface covered with Gf flour roll the dough into a thin layer (about 5 mm thickness).
Cut circles in the dough using a cup.
4. Take one circle and place it in your hand. Using a spoon place small amount of the filling in the middle of the circle. Then, form half-moons filled with the cabbage. Grab the edges together between your fingers and stick one to another. It needs to be done gently as the dough is not extremely strong. It is strong enough if you handle it with care.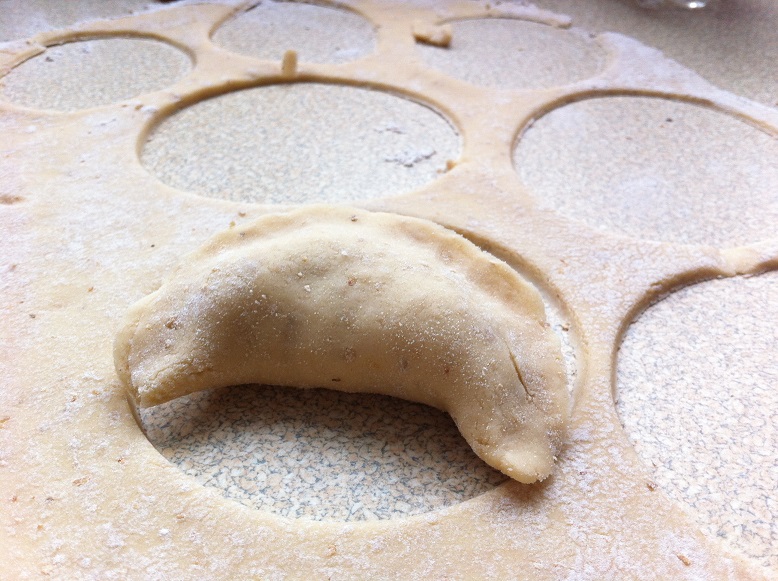 5. The formed dumplings place gently in a simmering boiled water (keep the fire low). Let them boil like this for about 3-5 min. Make sure that the dumplings are well sealed and don't open in the boiling water.
6. Hot dumplings can be served with cut into small pieces and fried onion or it is possible to fry them after cooling them down.
*I didn't freeze my dumplings but I did store them in a closed container in a fridge for 2 days and they were fine.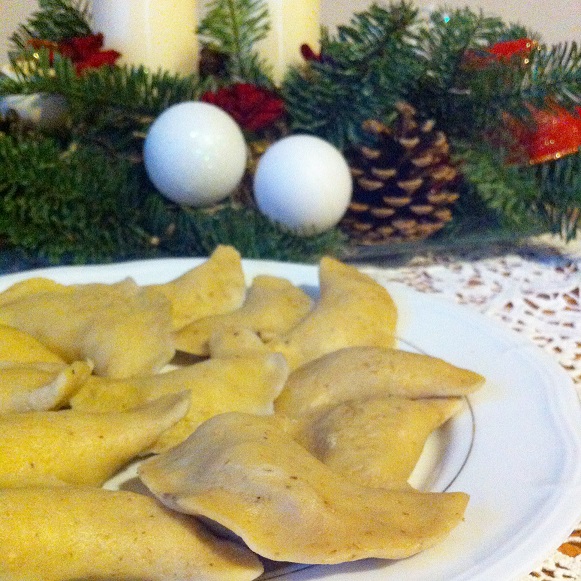 Have a Merry Christmas <3