Pff hot summer days. For the last two days I was more than happy to live on salads and raw vegetables. As long as the food was cold, I was fine.  The idea of switching on the oven or cooking felt a bit like a torture. But today, I felt ready for a decent meal, cooked vegetables and warm proteins. A nutritious, warm, not too 'heavy' meal  –  vegetable curry with chickpeas.
Highlights
Preparation within 30 min
Very easy preparation
Gluten-free & dairy-free
Egg-free, soy-free, corn-free
Delicious and nutritious
Ingredients (for 3 normal portions / two normal and two small portions)
Chickpeas – about 150-200 g
Zucchini – 1
Leek – 1
Carrots – 4
Rice – 2 cups
Coconut milk – a tin
Curry spices* – 1 tea spoon
Salt – a pinch
Fat to fry – one tea spoon
Optional: fresh ginger, parsley
*Coriander, Fenugreek, Turmeric, Cumin, Black Pepper, Bay Leaves, Celery Seed, Nutmeg, Cloves, Onion, Red Pepper, And Ginger. (Or you can buy ready mix like I did ;)
Tips
To save time I used pre-soaked chickpeas in a glass pot
By using organic vegetables  you can decrease amount of consumed pesticides
I used ghee for extra flavor
Needed appliances
Cutting board
Knife
Bowl
Frying pan
A pot/steamer (to cook rice)
Preparation steps
Start boiling water and cut vegetables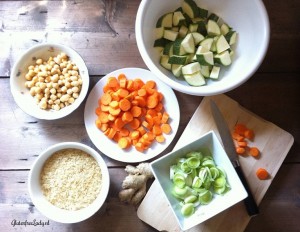 Place rice in a pot and cover it with boiled water. Boil rice till ready (the cooking time depends on rice, I always try it from time to time until I like its texture)and drain it.
Warm up the pan with a little bit of fat and fry first: leek and carrots. When they become soft, add zucchini and chickpeas.
When all vegetables are soft-ish, add coconut milk and (curry) spices. Let it simmer for 5 minutes.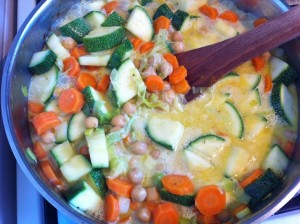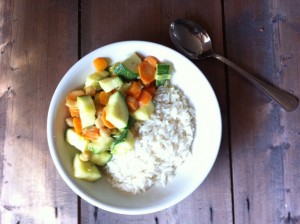 Enjoy your meal,