I am a big fan of beets. My favorite way of eating this vegetable is warm pure. Recently, I came across of tapenade made of black olives and beets. It is so delicious. Even my partner, who never eats beets, enjoyed it. According to 'Healing with Whole Foods; Asian traditions and Modern nutrition' eating beets has following benefits:
Strengthen the heart
Improve circulation
Purify blood
Benefit liver
Moisten the intestines
Treats constipation
Promote menstruation
Together with carrots – regulate hormones during menopause
Treats nervousness
There is a number of nutrients in beets, like folates, niacin (B-3), pantothenic acid (B-5), pyridoxine (B-6) and minerals such as iron, manganese, copper, and magnesium. What is more beets are a unique source of phytonutrients called betalains. Betanin and vulgaxanthin are the two best-studied betalains from beets, and both have been shown to provide antioxidant, anti-inflammatory, and detoxification support. In recent lab studies on human tumor cells, betanin pigments from beets have been shown to lessen tumor cell growth through a number of mechanisms, including inhibition of pro-inflammatory enzymes (specifically, cyclooxygenase enzymes). The tumor cell types tested in these studies include tumor cells from colon, stomach, nerve, lung, breast, prostate and testicular tissue.
Tapenade

Gluten free
Dairy free
Egg free
Nuts free
Sugar free
Vegetarian
Vegan
Paleo
Needed appliances
Kitchen processor
Pan to boil beets (unless you buy already boiled beets)
Ingredients
Boiled beets (2 big or 3 small)
Black olives (4-5 spoons)
Basilicum leaves (half a cup)
Olive oil (a couple of spoons; to your preference)
Lemon juice (from half a lemon)
Salt

Preparation steps
Boil beets and peel them
Place boiled cooled beets, black olives and basilicum leaves together in a kitchen processor. Pulse till desired consistency
Add olive oil, lemon juice and salt and mix together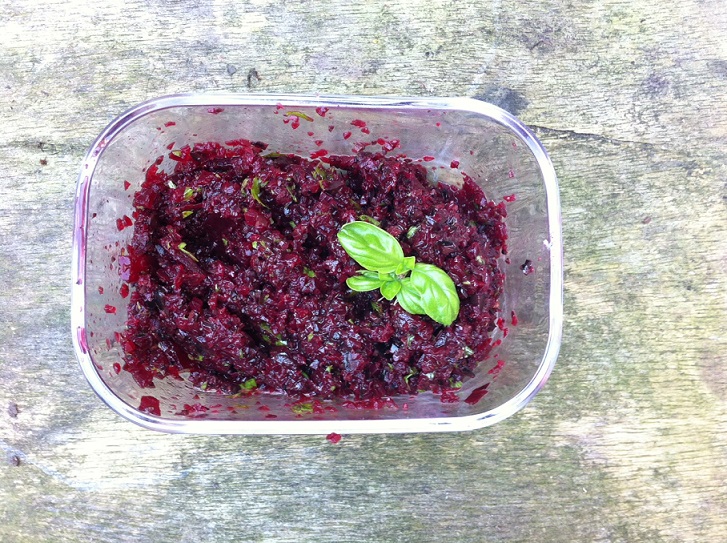 This tapenade is excellent on bread/cracker but also with fish and meat at dinner.
Enjoy,
Kati xxx