Kitchen Appliances / Cast Iron Pan
Already for a while, I am looking for good kitchen appliances. So far, I used only stainless steel but I read so many good things about cast iron that I decided to try it.
First: thinking, planning, and researching. What to buy and where? Since I have only one good frying pan, I decided that this is what I need – a solid cast iron pan for frying eggs or omelet.
I decided to start with a small piece, 20-22cm. I read that they can be pretty heavy and my Celiac's muscles are not my biggest power right now.
After some googling, I came across the Kookpunt.nl website. The website looks professional. The shop has 50 years of experience. Clear contact information stands on the homepage. Huge choice, many sizes, many types of cookware; and no sending costs for orders worth E 20,- and more.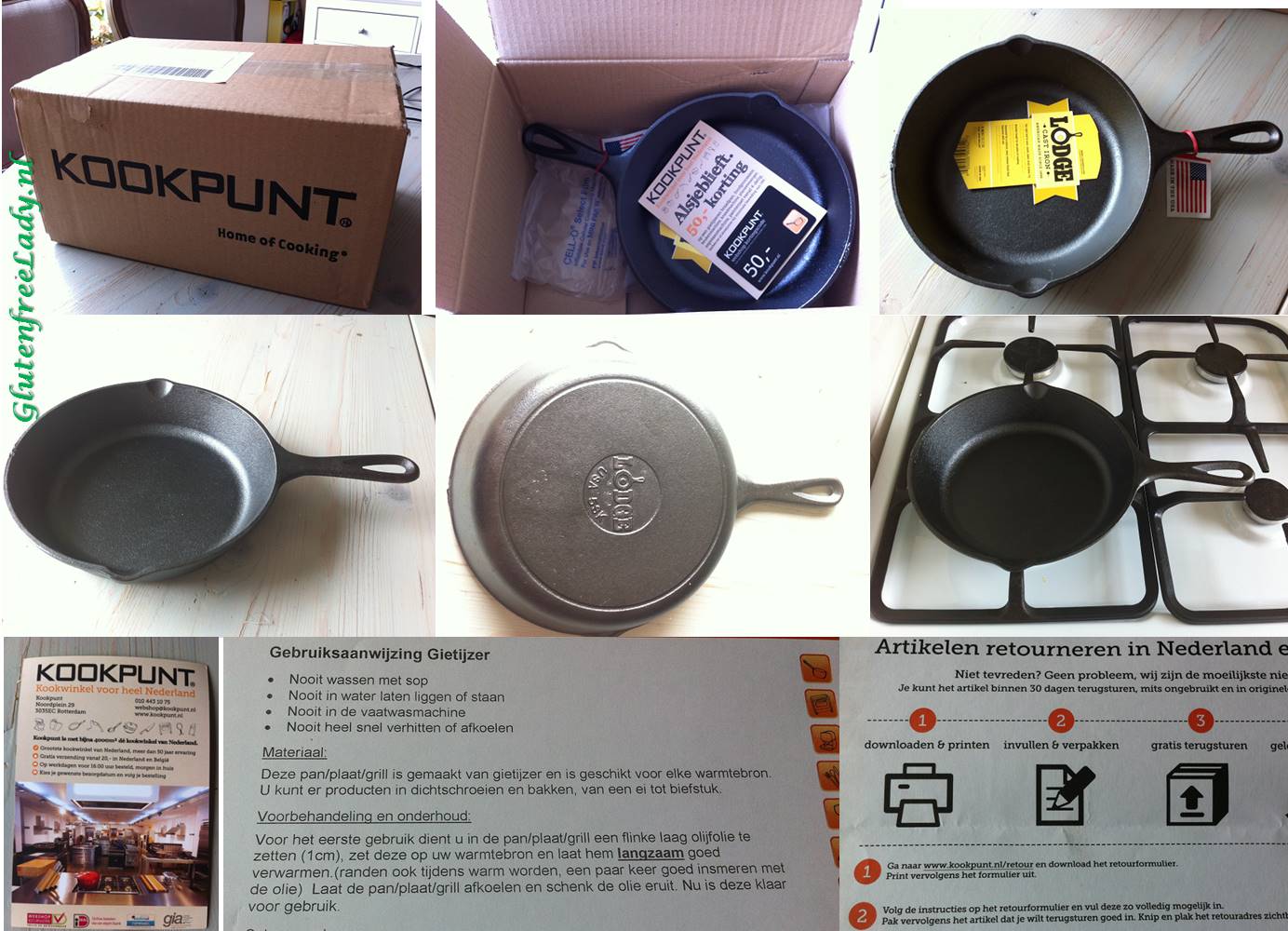 Cast Iron Pan from Lodge
20-22 cm
Bought at Kookpunt.nl

E 24,-
No additional sending costs in NL and BE (orders from E 20,-)!
Ordered before 16:00 , next day at home
Easy retour roles
Instructions regarding maintenances
Extra E 50,- discount on the next purchase above E 199,- ( that's 25% discount!)
Well packed
What does 'cast iron' stand for?
Casting is a process, upon which a liquid material is poured into a mold and then solidified.
Pluses
Doesn't have toxic coating
You cannot make scratches in a coating (because it doesn't have one ;)
Cast iron skillets are nonstick if you season them correctly
Doesn't require soap = it's good for the environment  (you clean it only with warm water and a brush)
Evenly distributes heat – no burned sides/corners
It's durable
Can be used in oven
Multipurpose
You can use metal utensils with it
Although  a study shows that foods prepared in cast iron cookware contains  more iron than the same food ingredients before cooking (source) – the additional iron might actually be an advantage for people with anemia (Celiac is often accompanied by iron deficiency anemia). Of course, I am aware of the ongoing discussion on effectiveness of inorganic iron supplements. Some believe that it is not well assimilated by the body (that is why it causes black stools). But I also know that after taking such supplement the iron level in my blood improved (it is a different story with the symptoms though).
Minuses
It's heavy (mine weights 1.5 kg)
It needs a bit of maintenance
It can rust
The handle gets very hot during heating the pan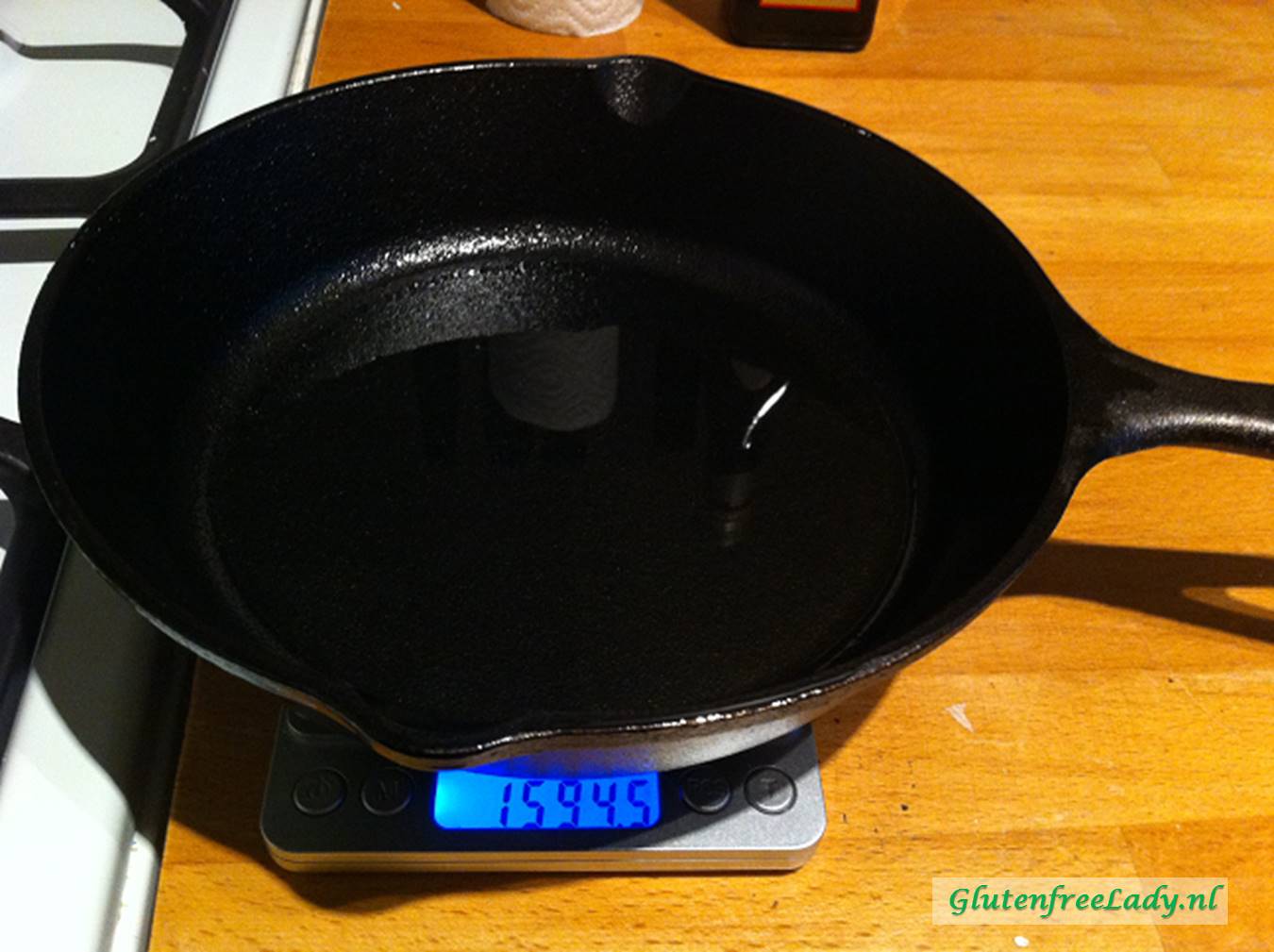 'Seasoning' of the Cast Iron Pan before the first use
Place your cast iron pan on a small fire
Add approximately 1 cm layer of olive oil
While heating the oil, smear some of it on the edges
Let the oil heat very well
When the oil is very hot (about 15 min), switch off the fire and let it slowly cool
When the oil and pan are cold, remove the oil
Store the pan with the remaining thin layer of oil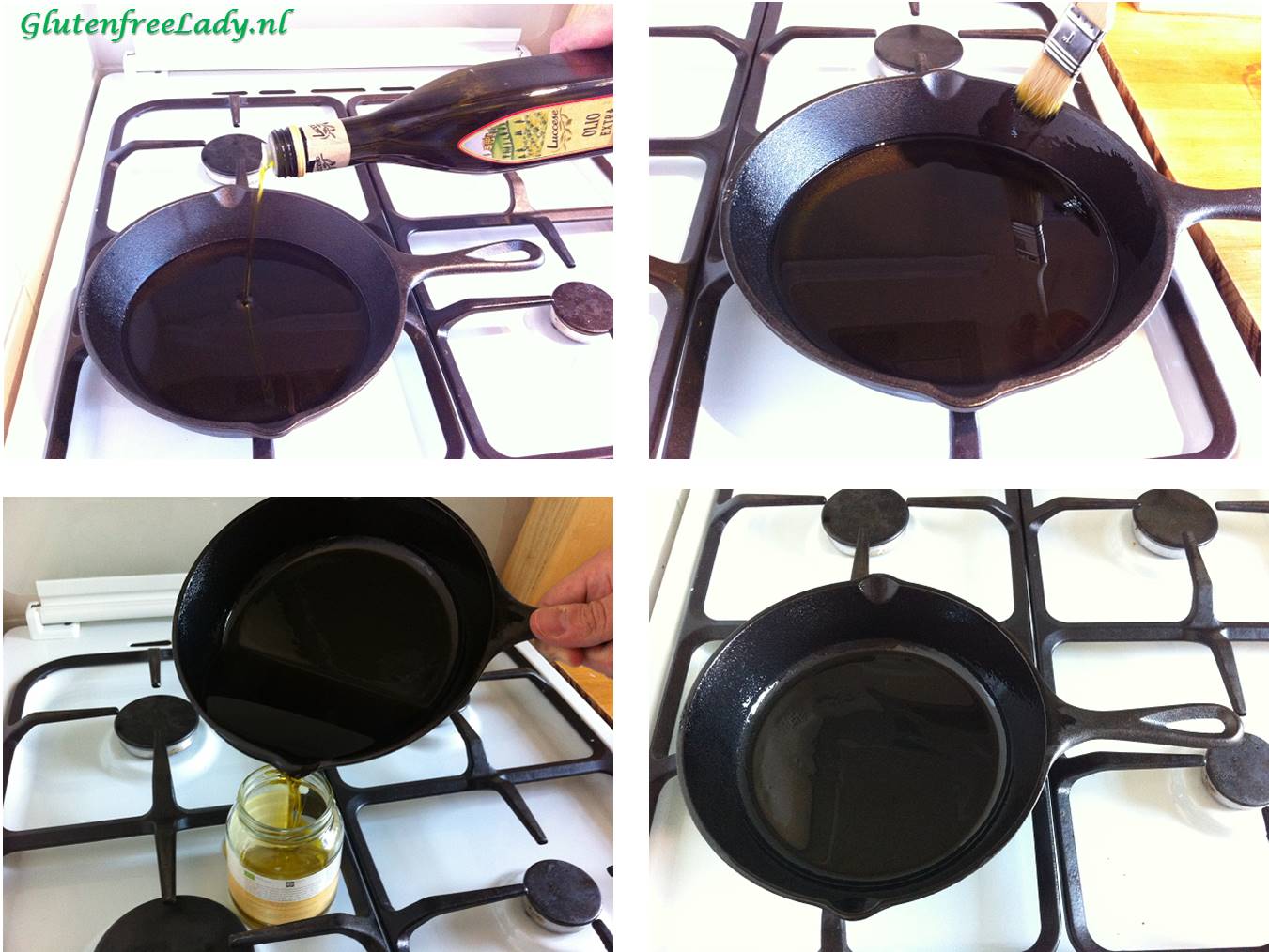 Cleaning Tips
Use only hot water and brush
Do not leave water in the pan for soaking
After washing the pan – dry it very well immediately (you can place it in a warm oven for a while to make sure that it is totally dry)
After drying, coat the pan with some fat (olive oil seems to be the easiest fat to apply)
Do you know other good quality kitchen utilities? I would gladly read your suggestions in comments.