Last two weeks I spent with my parents in Ustka – my home town. I celebrated gluten-free Easter with my family (post about it). This was my first visit after the diagnosis and the biopsy. I found that despite of the gluten-free diet, one can easily come to Ustka without worrying about what one can eat there. The offer of the gluten free products in supermarkets is very good. The number of brands that certify their products as gluten-free surprised me positively! I was able to buy everything I needed. I haven't dined in restaurants because my mum is a real Queen in a kitchen ;-). Next time I visit Ustka, I will try to investigate which restaurants in the area provide gluten free menu. So far, I found out that there are two sanatoria's in Ustka which offer gluten free meals: 'Przylesie' and 'Pomorze'.
Shops with gluten (and/or lactose) free products in Ustka (Poland)
Inter Marsche  (Ogrodowa 1, Ustka)
Hot dogs (Heroski, Wiejskie Pysznosci)
Ham(Naturalne, Wiejskie Pysznosci)
Ham (Abraham)
Rice pasta (Tao Tao)
Rice wraps (Tao Tao)
Corn groats, corn flour (Kupiec)
Rice waffles (natural, with spices, with chocolate / Sonko, Good Food)
Corn chips (Sonko)
Lactose free dairy milk, soy milk, rice milk;
Candies (Jutrzenka)
Schar products:
Pasta, Spaghetti
Multipurpose flour
Bread
Sweets
Food for dogs (Butcher's)
PoloMarket (Krótka 1, Ustka)
Mustard sauces (Roleski)
Candies 'IceCool' (Bulik)
Jelly in chocolate (Jutrzenka)
Biscuits  (Schar)
Rice waffels (Sonko, Good Food)
Choco- milk (Serduszko, Zott)
Vanilla- milk (Serduszko, Zott)
Ham (Wein)
Ham (Abraham)
Choco-hazelnut milk (Monte, Zott)
Choco-hazelnut dessert (Monte, Zott)
Netto (Sprzymierzeńców 20, Ustka)
Ice Cream (Grycan)
Sausages (Drobimex)
Rice waffels (Sonko)
Lactose free milk
Soy milk
Buckwheat bran (Melvit)
Biedronka (Pl. Dąbrowskiego 1, Ustka)
Delikatesy Centrum (Plac Wolności 9, Ustka)
Cookies ('biszkopty') (Balviten)
Salty snacks ('paluszki') (Balviten)
Flours (Balviten)
Ketchup mild & hot (Rolski)
Mustard sauces (Rolski)
Deer/Duck/Rabbit/Wild pig Pate's (Profi)
Buckweat bran (Melvit)
Chocolate with strawberries (Frankonia)
Rice pasta's (TaoTao)
Chocolates (Goplana)
Sweets (Akuku, Jutrzenka)
Corn chips (Crocs, Sante)
Rice waffels (Sonko)
Snacks & Chips made of dried fruits and vegetables (Crispy natural)
Bars made of crunchy dry fruits (Celiko)
Cheese snacks (Crispy natural)
Cake mix, rice bread mix, flour mix for self-made pasta (Celiko)
Pudding, gelly, dessert 'kisiel', breakfast pap, baking powder (Celiko)
Chocolate spread (Celiko)
Rossmann (Marynarki Polskiej 40, Ustka)
Bars (EnerBio)
Vegetables-based pate's (EnerBio)
Rice waffels (EnerBio)
Brownies mix (EnerBio)
Sesame bars (EnerBio)
Sesame bread (EnerBio)
Muesli (EnerBio)
Candies
Real (Szczecińska 6, Kobylnica / Slupsk)
Breads, buns, croissants (Gluetenex, Balviten)
Rice waffles (Sonko, Good Food)
Crackers (Glutenex, Chaber
Muesli (Glutenex)
Ice cream corns (Glutenex)
'Breadcrumbs' (Glutenex)
Pasta's (Glutenex)
Flours (Balviten, Glutenex)
Chips (Glutenex)
Bread mix (Glutenex)
Hot dogs (Drobimex, Konspol)
Ham (Abraham)
Chicken-based 'ham' (Drobimex)
Sausages 'Kabanos' (Konspol, Natura)
Sausages 'Slaska' (Konspol)
Plum in chocolate (Glutenex)
Coffee from chicory 'Cykoria' (Coffee Promotion)
Ice-creams and sorbets (Grycan)
Other available in Poland, gluten-free brands and products
A list of the gluten free products available on Polish market (2012) (In Polish) here
Update to the list of gluten free products on Polish market (In Polish) here
Top 10 gluten free products 
'Cykoria' – gluten free, caffeine free 'coffee' made of chicory (Dutch: cichorei) (Coffee Promotion)
Sausages – Kabanosy (Konspol)
Traditional Polish sweets 'Ptasie mleczko' (Rajskie mleczko, Goplana)  (An update from November 2014: The 'Rajskie mleczko' from Goplana is no longer gluten free)
Pate's made of deer/rabbit/wild pig (Profi)
Sorbets (Grycan)
Buckwheat bran (Melvit)
Gelly dessert (Celiko)
Dark chocolate with nuts and dry fruits (Goplana)
Bread mix Royal Baker-Supreme (Balviten)
Sauses (Rolski)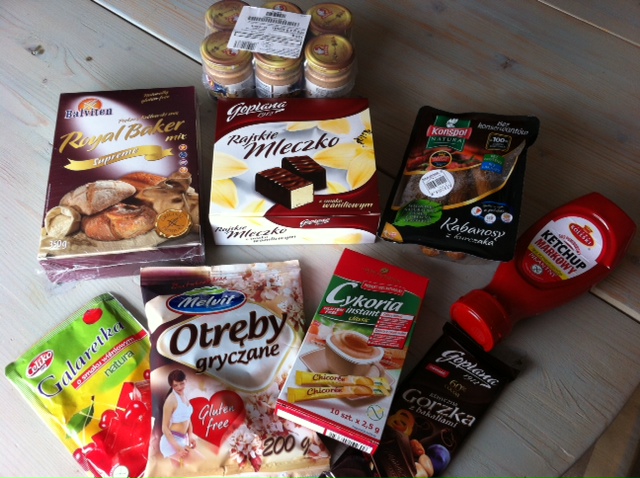 *That was my short overview of gluten free products available in Ustka. If you have any info that could contribute to this review, please let me know or comment under the post. This way we can help each other.
Kocham Ustke :-)
Dziękuję,