Thanks to a courtesy of Kookpunt.nl I was able to review a Paella pan. A perfect pan for summer (read: bbq) season.
A contest with giveaways – 4 mini paella pans Vaello ! You will find the contest at the bottom of the review!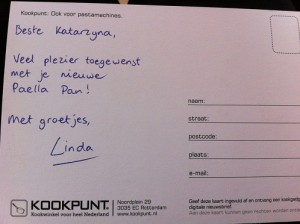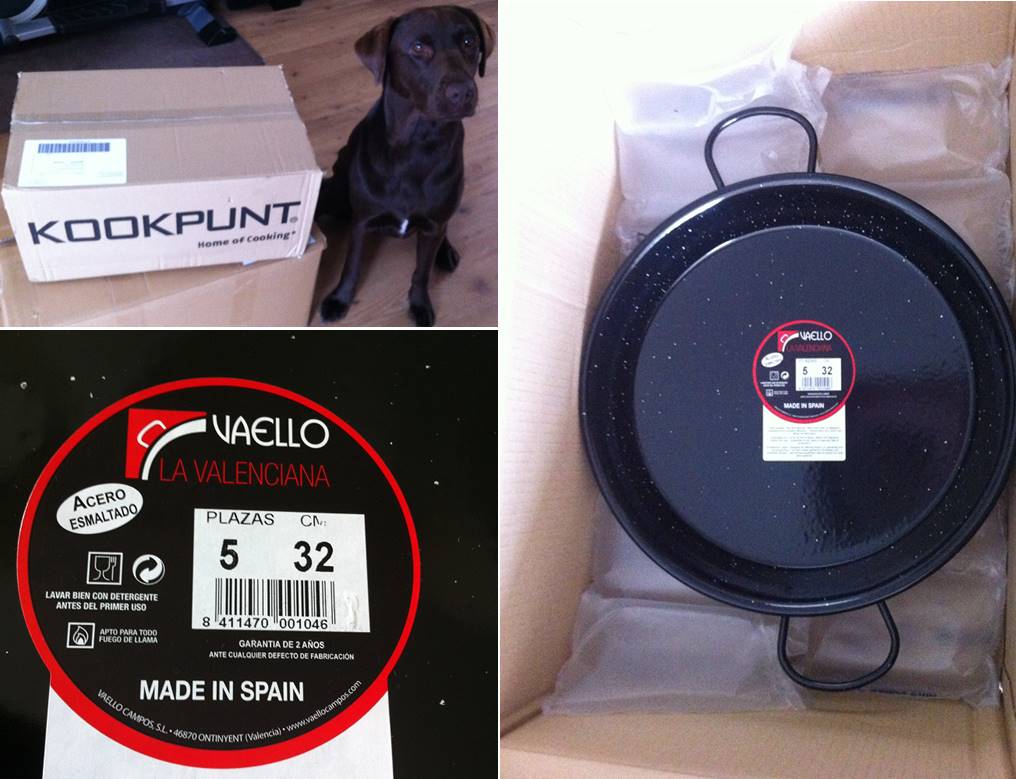 What is a Paella Pan
The Paella pan is a distinctive pan designed for making a Valencian dish called Paella. Paella is a layer of rice with seafood, meat, chicken and vegetables cooked in a broth.
The characteristic features of the pan: round, flat bottom and short sides are specifically designed so that the flavor of the rice becomes the richest possible.
Another characteristic two handles are supposed to make it easy to serve the hot Paella at the table. (It's a Spanish tradition to enjoy it outdoors and eat it right from the pan).
Paella pans have different sizes from 10-150 cm. The reason why the pans have a big diameter and are shallow is to maximize the bottom surface area. Paella tastes better when the rice cooks in a thin layer. The key to the best flavor of rice is as much contact with the bottom of the dish as possible.
Hereby an overview of all (45!) Paella pans available at Kookpunt.nl.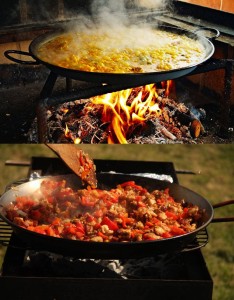 About Vaello Paella pan Valenciana Esmaltada (32 cm)
It is light
Suitable to cook Paella for 5 persons
Made of steel coated with a speckled black enamel
Unsticky cookware which is easy to clean and maintain
Doesn't rust
It can be used indoors and outdoors
Suitable for:
Stove (you can use one big stove or two small ones – depends on a size of your pan)
Oven
Gas burner (camping kitchen)
Open fire
BBQ
Paella dish
Pancakes
Tortillas
As a tapas plate
As a tray
Ideal for shared BBQ to avoid gluten contamination
It's not expensive (E 11 ,- for the 32 cm pan)
The only limitations are that the enamel coating can be damaged if your cookware gets hit a lot in the kitchen cabinet; besides the pan shouldn't be washed in a dishwasher; and the handles become hot
You can buy it HERE
If you are interested in Paella pan of different size or made of different material, have a look HERE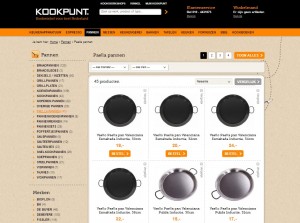 About Enamel
Enamel is made by fusing powdered glass to a substrate by firing at temperature between 750 and 850 °C. The powder melts, flows, and then hardens. The obtained surface is smooth, hard, chemically resistant and durable. As said above, it is also easy to clean and does not burn. Enameled cookware is considered safe.
TIPS: How to make the best Paella
The layer of rice shouldn't be higher than 1 cm for the best result
A tiny pinch of saffron is a secret of the best flavor
By not overloading rice with too many ingredients
The rounded and short rice fits the best; it absorbs liquid very well, and it stays relatively firm during cooking
The idea is to allow the liquid to cook quickly and evenly
Paella should not be stirred after adding rice
The brown, crisp layer that forms on the bottom (the socarrat) is a delicacy
The lemon juice should be added at the end for the best result
* A contest with giveaways *
Together with Kookpunt.nl I invite you to participate in a contest. Everyone has a chance to win four 10 cm paella pans from Vaello.
Do you know a good Paella recipe? Send it to me (kasia@kandb.nl) before the end of Thursday, 31 st July. Feel free to write it in English or Dutch. The winner takes it all. One recipe will be rewarded by Kookpunt.nl with a set of four mini Paella pans!