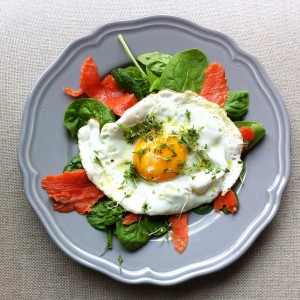 I have enough of inflamed tummy, acne and dizziness.
A couple of weeks ago, I started cooking from scratch all my meals. Despite gluten free and lactose free diet, my thyroid antibodies are having a heck of a party by destroying my healthy tissues.
Such an autoimmune attack can be triggered by toxins, heavy metals, infections, leaky gut or other factors. I am aware that the diet on its own might not be able to solve the problem but it is a good start.
"Leave your drugs in the chemist pot if you can heal the patient with food" – Hypocrates
So many people with Hashimoto's (autoimmune thyroiditis) lessened antibodies, balanced hormones, solved infertility problems by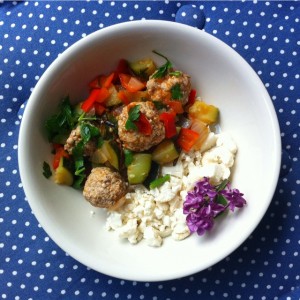 following a Paleo diet or its restricted form AIP (autoimmune protocol). Even medical researcher and an award-winning PhD in Medical Biophysics Sarah Ballantyne and her colleagues from a medical world promote the Paleo diet as a way to heal the intestines and autoimmune imbalances.(*Below a list of a couple of scientific publications on positive effect of Paleo diet. Found here).
For two years now, I eat gluten free, mostly organic and dairy free and I choose carefully processed products that I buy.  Occasionally, I enjoy some gluten free sweets. So I thought I was already doing quite well. I wanted to believe that the conventional medicine will heal my thyroid and that Paleo food restrictions would be unreasonable.
At first, (still skeptical) I didn't really aim at following any specific diet. My intention was to further exclude processed food from the menu and see if I feel any better. I have been watching carefully how my body reacts to the foods claimed in Paleo to inhibit gut healing.
Now, I am so impressed by the diet. My arms are finally free from dry white spots; the skin on my face looks much better and even my hormones seem to balance a little judging by my mood. But I also noticed something interesting. The more 'clean' is my food, the sharper my body reacts to the 'forbidden' on AIP food ingredients, for instance nuts and seeds!
"The discovery of a new dish does more for human happiness than the discovery of a new star" – J.A. Brillat-Savarin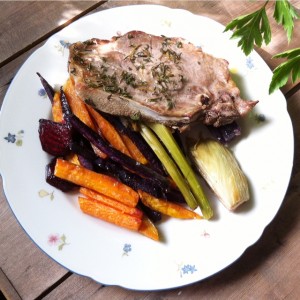 Although, I haven't been tested for food allergies and intolerances other than gluten, it is clear to me that my digestion tract gets irritated by certain food ingredients. After eating some foods, like soy sauce or vegetables with Beltane curry spices and coconut milk, I became so dizzy I couldn't walk my dog. My partner, on the other hand, has tremendous skin reaction to all kinds of sugar and he healed his skin condition with the 80% Paleo diet (he still eats bread).
The fewer ingredients in the meal, the easier it is to find out what irritates your intestines. The more I am experimenting the more I see that I become really dizzy within 30-60 min after eating something which doesn't support my healing.
Although it wasn't my intention at start, I am approaching some kind of 'elimination' diet. And because the real elimination diet is very strict I actually prefer to grow up towards it slowly. It would be quite a challenge to switch to AIP from day to day. Probably, I wouldn't last long.
~I am eating the rainbow~
My plan is to continue cooking from scratch, learn new paleo and AIP friendly recipes and use as many whole food ingredients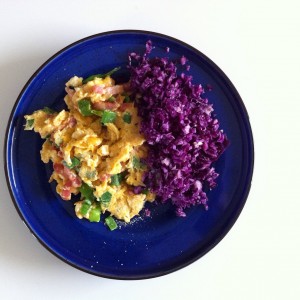 as possible. And of course keep watching how our bodies react to all of this. Ideally, I would like to follow the elimination diet for 1-3 months at some point, if still necessary. From what I see so far, an elimination diet should be rather 'custom' designed. It is really necessary to know your own body very well and watch its reactions. Some people can have problems with food allowed on AIP (e.g. coconut) and everyone needs different minerals/vitamins supplements.
My ultimate goal is to reduce the number of the antibodies attacking my thyroid gland. Research showed that it can be achieved (among other) by eliminating all food that irritates one's intestines and allowing it to heal (1-3 months). After the healing period, some of the foods that was inhibiting the healing process can be gradually re-introduced to the menu. I hope I will stay strong enough to get there.
You can count on many new recipes on the blog. They will be gluten and dairy free as it already confirmed that I react to the smallest traces of milk protein. Not all of the recipes will be immediately paleo or AIP friendly. I want the transition to be slow. I want to make sure that my body gets all the minerals and vitamins it needs on a restricted diet. And I don't want it to be a flash in the pan!
The Gluten Dude did it, The Paleo Mum did it – I think we can do it too!
Wish me luck!
Kati xxx
* Scientific publications:
1) Fontes-Villalba i wsp. (2014). A healthy diet with and without cereal grains and dairy products in patients with type 2 diabetes: study protocol for a random-order cross-over pilot study–Alimentation and Diabetes in Lanzarote–ADILAN. Trials. 2;15:2.
2) Lindeberg i wsp. (2007). A Palaeolithic diet improves glucose tolerance more than a Mediterranean-like diet in individuals with ischaemic heart disease. Diabetologia. 50:1795-807.
3) Jönsson i wsp. (2010). A paleolithic diet is more satiating per calorie than a mediterranean-like diet in individuals with ischemic heart disease. Nutr Metab (Lond). 30;7:85.
4) Jönsson (2009). Beneficial effects of a Paleolithic diet on cardiovascular risk factors in type 2 diabetes: a randomized cross-over pilot study. Cardiovasc Diabetol. 16;8:35.
5) Jönsson i wsp. (2013). Subjective satiety and other experiences of a Paleolithic diet compared to a diabetes diet in patients with type 2 diabetes. Nutr J. 29;12:105.
6) Frassetto i wsp. (2009). Metabolic and physiologic improvements from consuming a paleolithic, hunter-gatherer type diet. Eur J Clin Nutr. 63:947-55.
7) Masharani i wsp. (2015). Metabolic and physiologic effects from consuming a hunter-gatherer (Paleolithic)-type diet in type 2 diabetes. Eur J Clin Nutr. 69:944-8.
8) Boers i wsp. (2014). Favourable effects of consuming a Palaeolithic-type diet on characteristics of the metabolic syndrome: a randomized controlled pilot-study. Lipids Health Dis. 11;13:160.
9) Mellberg i wsp. (2014). Long-term effects of a Palaeolithic-type diet in obese postmenopausal women: a 2-year randomized trial. Eur J Clin Nutr. 68:350-7.
10) Pastore i wsp. (2015). Paleolithic nutrition improves plasma lipid concentrations of hypercholesterolemic adults to a greater extent than traditional heart-healthy dietary recommendations. Nutr Res. 35:474-9.
11) Manheimer i wsp. (2015). Paleolithic nutrition for metabolic syndrome: systematic review and meta-analysis. Am J Clin Nutr. 102: 922-32.
12) Melnik (2015). Linking diet to acne metabolomics, inflammation, and comedogenesis: an update. Clin Cosmet Investig Dermatol. 15;8:371-88.
13) Tarantino i wsp. (2015). Hype or Reality: Should Patients with Metabolic Syndrome-related NAFLD be on the Hunter-Gatherer (Paleo) Diet to Decrease Morbidity? J Gastrointestin Liver Dis. 24:359-68.
14) Vojdani i wsp. (2014). Environmental triggers and autoimmunity. Autoimmune Dis. 2014:798029.