I have a new habit and I thought it is a really good one to share with you. It makes my gluten free life a bit easier so perhaps it is something also for you.
Together with my partner, we do the grocery shopping once a week. During the week, there is no time to go to shops and the shops, at which we like to purchase our food, aren't nearby our house or on the way between home and work. Thus our grocery cart on Saturday is always filled with foods!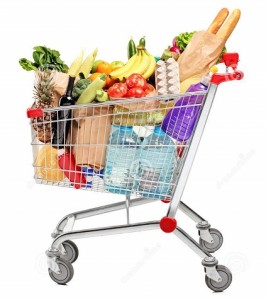 My shopping lists weren't really well done before. I used to make a list of the products that were finished (like spices, butter, tomato pure, etc.). At the shop, I would buy other foods like meat, fish, beans, vegetables and try to have enough to prepare 7 dinners. I would grab some more products for lunches and breakfasts.  This system didn't really work well and required a lot of juggling at home. I would open the fridge every day, check expiration dates, and think what I could through together on a plate. I must admit, I didn't feel in ease with this system. Actually, I was hurrying, stressing, sometimes even quickly trying to unfreeze some meat/fish just before cooking. I don't recommend such lifestyle despite the sweet feeling of spontaneity and exciting but weird combinations of foods landing on my plate from time to time ;-)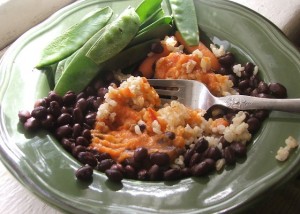 Instead, I started to plan our meals (mostly dinners) for entire week ahead. Once a week, I sit down and put some dinner ideas on paper. Since I buy a pre-packed bag full of organic fruits and vegetables once a week, I consider these products in my planning (it is possible to check on the internet what will be in the bag the following week – handy). Then, I look for the recipes (if I want to try something new) and make a list of the rest of ingredients needed for preparation of the chosen dishes. As I don't really plan breakfasts and lunches – I make sure to add to the list some crackers/bread, extra vegetables (tomatoes, cucumbers, bell pepper, salad, beets, etc.), eggs, fish, meat etc. Also, I always try to have at home the basic ingredients to prepare our favorite homemade bread toppings (e.g. hummus, pesto, and other sauces).
Other tips:
I divide my shopping list accordingly to places I visit e.g. AH: mayo, tea; EkoPlaza: GF crackers, GF flour; Butcher: meat.
 It is easier if the food to be bought at the supermarket (e.g. AH XL) is organized according to the departments. For example, first you pass vegetable and fruits (the list of the foods to be picked up there should be on top of the shopping list) then meat department etc., etc.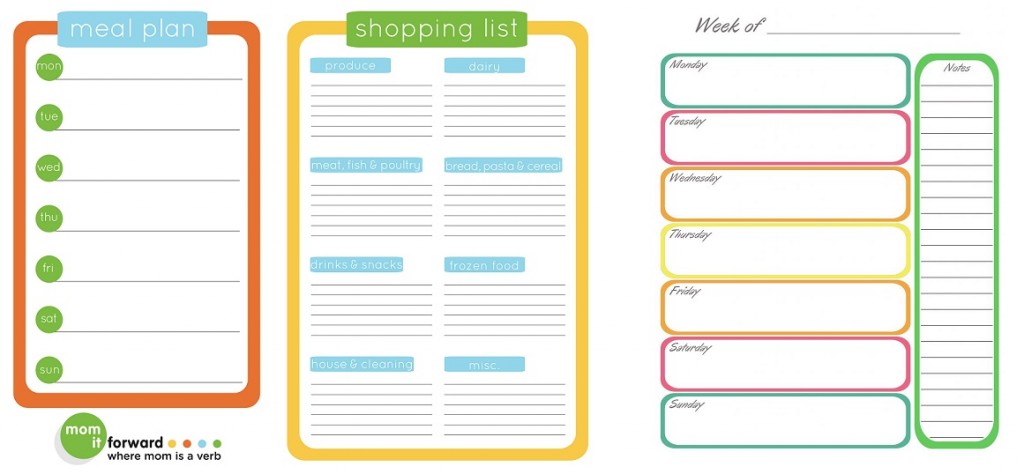 First, I thought it would cost me a lot of time to look for ideas what to cook, find the gluten free recipes and put all the needed (gluten free) ingredients on the list. I am happy that I was wrong! It actually saves me time each day because I don't need to think what to prepare again and again. We also need less time to do our shopping and have more time to enjoy the weekend.
Another benefit of meal planning is no food waste. No food goes bad because we can plan when it is used and buy it knowing till when it needs to stay fresh or otherwise freeze it.
Regarding the gluten free diet, planning meals allows knowing ahead which food is needed to follow the recipe. If you like to use some processed ingredient like sauce or spices you can investigate which brand makes a gluten free version of it. It can save you time at the shop, you won't need to read all labels or risk getting glutened.
On another blog (foodquotes.nl) I found printable menus and shopping lists. You can print one in Dutch or in English. I use them and I really love them but you can also make your own lists or look for other ones that might suit you better.
If you don't plan your meals ahead yet, I fully recommend doing it. In the end, you will save yourself a lot of stress and hassle.
Cheers,
Kati