After clicking the final 'approve' on a website of the Elsevier journals on Saturday 2nd August, my summer holidays finally started.
What do we do now
We drive to see my parents in Ustka :-)
I miss them so much :(. Although, Arnhem feels like home, the one and the only real home will always stay in Ustka. No other place in the world can make me feel like I'm 18 again. Pure relax, pure peace, no stress, no worries, no obligations, no tasks, no to do lists!
What first
Every time we go on holidays, I am running around trying to leave our house clean and organized. On the last moment, I usually realize I forgot to buy something or that the clothes I want to take with me are still in the summer boxes or in a laundry basket etc. To have it all under control, I developed 'making lists' system. Planning, cleaning, shopping and packing. I think it is a good idea to keep these lists on a blog. Perhaps, it helps someone. For sure, I will make use of them the next time we go on holidays. Please keep in mind, I made these lists based on my own holidays (mostly). We travel by car this summer, means I don't need to worry about extra suitcase and papers allowing me to take it to the plane.
Below lists might be especially useful to someone
traveling by car
going to visit family
taking own pet along
eating glutenfree
feeling overwhelmed by planning and packing suitcases on holidays
Things to do before you leave on holidays
Once you already know your destination, make a list of things you want to take with you

Glutenfree food to take with you as an emergency food (if you know already that you won't be able to buy anything locally)
Glutenfree food to enjoy during the roadtrip (flight, train ride etc.)
Documents
Medicines /First aid kit
Clothes
Accessories
Stuffs for dog
Entertainment
Presents for parents
Cosmetics
Suitcase
Car, bikes, BBQ, GF pan etc.
Other

Check the above list for

What needs to be washed – and do laundry
What do you need to buy – and go shopping
What you prefer to buy at the spot (e.g. certain cosmetics, toaster etc.)
What do you need to find on attic, summer/winter boxes etc. – and collect these things
What do you want to cook/bake – for Celiacs it is not such a strange 'to do' task as it might seem to others
Papers, documents, tickets etc.
Check exploration dates on your documents like passport or driving license
Research what local glutenfree brands exist at your destination, which GF products are available; it is handy to page the local Celiac's Forums and blogs – based on that you can decide how much emergency GF food you need to take with you
Copy movies/series/books on your devices (if needed)
Check your calendar and make sure there are no appointments scheduled within the period when you plan to be away. If necessary, make some phone calls/emails to reschedule.
Make sure that your work place is informed about your holidays and that there are no urgent tasks scheduled during your absence. If so, find replacement if possible/required.
Don't forget to set automatic reply in your work-mailbox.
 If you have pets which you do not take on holidays with you – find someone who will take care of them.
Roadtrip: check if the maps on your navigation system are updated
Check your fridge and other fresh foods that you stock in house. Try to use all the foods that won't be good after you come back. You can freeze some of these things or give it away.
Something I always do: change bed linen so when you come back, your bed is clean and fresh :-)
Just before you leave

Make sure you packed all what is on your 'to be taken' list
Close all windows, doors, gates at home and garden
Water your plants generously and if necessary place them in colder, shadowy place
Make sure there is nothing in your garden that can cause any damage in case of bad weather (a garden-umbrella, summer roof etc.)
Make sure that your work (papers and thoughts) stays at home
Disconnect all electronics from the power supply
Eat decent meal before you leave house unless you plan to dine glutenfree somewhere on the way
Prepare and pack food/drinks on the way
Every time I need to travel I wonder what to put into my luggage. A thought crossed my mind that if I write it down now and save it for the future I might have it easier next time. This is why – a list of things that I always take with me on holidays.
FOOD ON THE WAY
Food bag (cooling bag from ikea)
Water – small bottles
GF buns (ciabatta from Schar) with smoked, glutenfree ham
Boiled eggs
Fruits: apples, bananas
Veggie snacks: cucumbers, carrots
Other snacks: homemade cookies, nuts, chips
GF, dry mini-sausages from AH
Coffee/tea pot
Paper towels
2 forks, 2 spoons, 1 knife
Empty plastic bag as garbage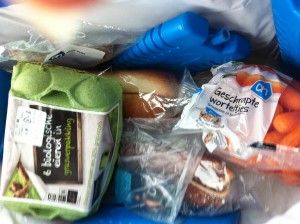 EMERGENCY FOOD
GF bread and/or crackers
GF oat flakes (other breakfast mixes)
GF cookies
GF pasta (if not possible to buy at destination)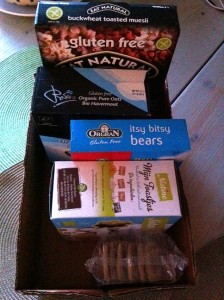 COSMETICS
Shampoo & conditioner
Shower gel (or shower gel with shampoo in one)
Face cream
Teeth paste
Teeth brush
Hair brush
Mascara
Deodorant, perfume
Shaving knives
Balsam or body oil
Nail fail
Tweezers
Sanitary pads
Make-up (if you use it)
ENTERTAINMENT (examples)
Laptop/tablet (+ a charger)
Book / ebook (+ a charger)
Phone (+ a charger)
Camera (+ a charger)
A cable to connect your device(s) to laptop if necessary
Other (depending on a destination and a purpose of your travel)

inflatable mattress
diving accessories (or other beach accessories if wanted)
hiking accessories (if needed)
other
CLOTHES
Undershirts
Tshirts no sleeve
Tshirts/blouses short sleeve
Tshirts/blouses long sleeve
Sweatshirt
Sweater/jacket
Trousers/jeans
Shorts
Summer skirt
Summer dress
Rain coat/summer jacket
Socks
Summer tights/stockings
Bra's and undies
Swimming suit
Pajama
Jogging clothes
Party outfit (if you plan to join some)
Some special occasion outfit (depends on a purpose of your trip)
Destination related outfit (depends on destination and a purpose of your trip: horse riding, diving suit, other sports, etc.)
ACCESSORIES
A hand bag or/and a backpack
Belts
Summer shawl
Sun glasses
Summer hat (useful if you go hiking)
Reading glasses/lenses (if u wear one)
Shoes (yes, we need more than 1 pair; no, not only to look pretty; shoes have different functions!)

Sandals or/and flip-flops
Rainproof shoes
Hiking shoes (if needed)
Training shoes (if needed)
DOCUMENTS
Passport
Dog's passport
Insurance pass
Money (I always have a small amount of local currency for emergency, coffee, WC etc.)
Road trip related – car papers, ANWB pass, possibly cash for toll-roads
o   Check the car:
oil level
cooling liquid level
window wash fluid level
spare tire
tires air pressure
spare lamps
first aid kit
Public transport – tickets, OV card
Address of your destination
Booking confirmation (hotels, flight etc.)
Printed tickets if ordered online (e.g. once, we ordered tickets to Eiffel Tower online to avoid the long waiting line)
OTHER
Medicines (thyroid hormones, vit D)
First aid: painkiller,plaster, etc.
Tissues, wet tissues
Dog's passport, dog's bowl, dog's blanket, a leash, dog's food. Go to vet –  make sure that dog got all necessary vaccination
House key
GF kitchen utensils e.g. frying pan, pot, toaster (or anti-contamination bags), colander, dish-sponge, aluminum foil or closed containers (if needed)
In my case: a list of things I want to buy in Poland and take with me to The Netherlands.
This is how I plan and how I prepare myself and everything else to leave on holidays. Would you like to share your tricks and tips?